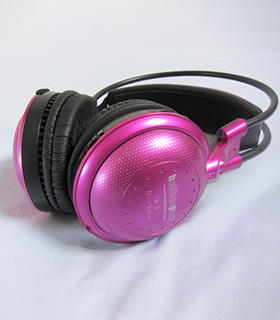 Silent Disco Systems
Get the party started!
A silent disco system consists of a transmitter box, which has inputs for two stereo channel feeds, and sets of wireless headphones to listen to either of the feeds at the touch of a button.
The system come supplied in packs of 50 wireless headphones, with a transmitter and spare batteries. The silent disco is the perfect way to add to any event!
We can offer 25 headphones at a special price of £100 which would be great for a party at home with friends.
Hire a system of (minimum)
25 headphones at £100 per night
50 headphones at £138 per night
100 headphones at £192 per night
150 headphones at £234 per night
200 headphones at £300 per night
250 headphones at £354 per night
Check Availability
---
Leave it to us!
In addition to our self-operation silent disco hire, we can offer a disco with either one or two DJs, disco lighting, special effects such as a smoke machine and even with a sound system (so you can have a normal disco and switch to silent disco later into the evening). If you have two DJs they can play different musical styles – for example one playing oldies and the other playing recent hits to suit mixed ages at a party. With just one DJ, the DJ plays as normal on one channel and can run a continuous mix on the second channel. There's no set price because each function is arranged to suit your particular requirements, so please contact us for a quotation.
Requirements for all hires
All hires must be accompanied with a £50 cash deposit (except high value hires which require £100 cash deposit), which is returned when all the hired equipment is returned to our premises undamaged and in working order.
All hires should be collected on the day of the hire between the hours of 12pm and 3pm and normally returned during opening hours on the next working day, except for returns on a Friday or Saturday which should be returned between 11am and 12pm (please).
Collections outside of these hours by arrangement only. All hires require 3 forms of ID (one should be a photo ID and a separate one should have your current address); eg. driving license, passport, recent utility bill or bank statement.
Small Print
The prices above include VAT and are for one day/night hire and are valid thoughout the year except for the Christmas and New Year period between December 23rd and January 2nd.
All electrical equipment is PAT (Electrical Safety) tested regularly throughout the year, with a maximum period [between tests] of one year.