Dave Seamer Entertainments has over 35 years experience in the entertainments industry.
We offer a reliable and professional service with everything you will need for your event at an affordable price.
Whether you are having a party at home or are planning your perfect wedding day we are here to help.
We have everything from a silent disco for 25 people, to a full disco with an experienced professional DJ.
Whats New?
Hire our new digital karaoke sytem for a modern karaoke experience. The system includes a karaoke laptop complete with over 2000 songs, song listings, 1 bluetooth speaker, 2 wireless microphones, TV & stand. Hire this system for £120 per night.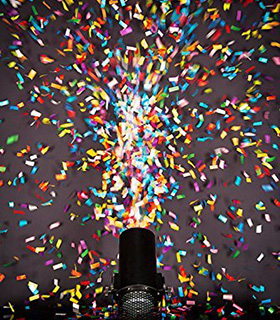 Watch Online
Hire a funfetti shot for the added WOW factor at your event.
Funfetti Shot is a professional confetti launcher perfect for concerts, parties, weddings and more.
You can use multi, mirror or UV funfetti - all available to buy with the hire of a machine.